Paper Wheel Sharpening system
Several years ago, I heard about a new sharpening system called the paper wheel system. It was a 2 wheel system mounted on a buffer or grinder that would operate between 3000 rpm and up to 3600 rpm.
One of the wheels is a gritted sharpening wheel. The other is a slotted buffering wheel. Included in the package with the wheels is a container of goose grease for use on the gritted wheel and also a container of buffing compound for use on the buffing wheel. The package also contains a small package of silicon carbide to be used for reconditioning when needed. The package also contains the instructions for installing the wheels and also using and reconditioning when needed. The wheels fit a 1/2 in shaft and are roughly 7 7/8 in diameter.
One of the biggest problems is the cost of acquiring a buffer or grinder where the wheels can be attached. In Texas, we have Harbor Freight that usually sell an acceptable buffer motor for around $40. I'm not sure how to state the life expectanecy of a set of wheels since it depends on the usage. I've had mine for several years and have only reconditioned once.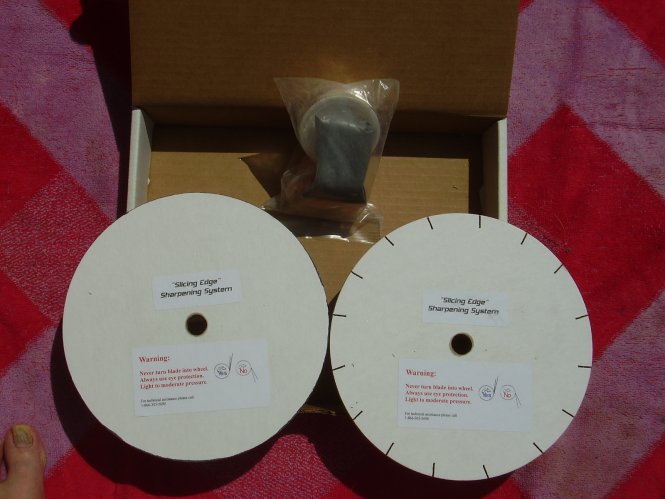 For more information, contact me at:



Louis Murphy
P.O. Box 133
Chappell Hill, Texas 77426
(832) 541-4637



or

email me at cowboy2glm@yahoo.com
[WANNAKNIFE Home]

Copyright 2011 G. Louis Murphy